C. Exterior Chrome and Trim [Top]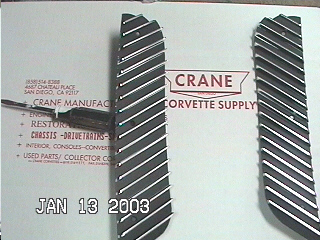 "In Stock" 1962 NEW "Cove Moldings" Exact replicas -Sale $315 pair sold in pairs only. .800-597-4132 click photo: :

crane's 800-597-4132." HOT

corvette 1961-62 Grills " , used $200-400 , and exact repro's in stock -laser straight like the originals installed on the cars when new : sale $495 -call: 858-864-2883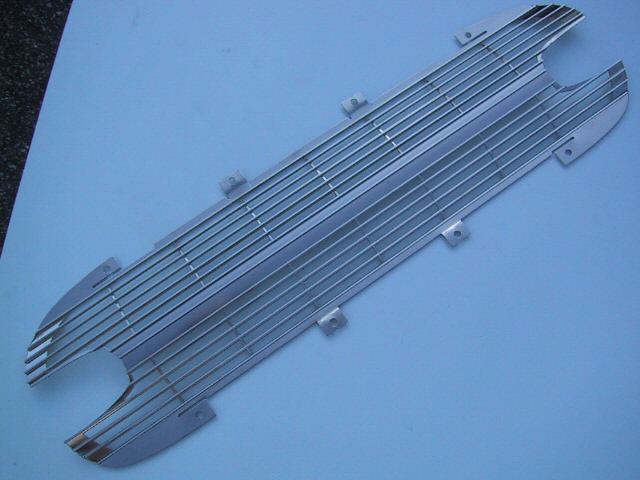 above is the 1961 Grill and the Black 1962 (same quality- not pictured)
You are viewing a new, 1961 Corvette front grill. This grill is Factory perfect. It is new. It is correct in both fit and finish. It is the correct original size, shape, weight, material, finish and gauge. This grill is extruded aluminum, not a die casting like some replacement grills have been. Extrusion, is a much more expensive process, but that is the original method of manufacture. Because it is aluminum, it is anodized, just like the original assembly line grilles. The anodized finish is unique, and gives it a look that is different from the more common, cheaper finishes. There is no substitute for the original, extruded aluminum, anodized look to make the car appear exactly like it did on the showroom floor. Notice how thick the horizontal bars are. Also, notice how straight they are in the photos. Notice the brightness of the anodized finish. This grille was manufactured in the USA using the the Factory method, every step of the process. I guarantee your satisfaction or your money back less the shipping.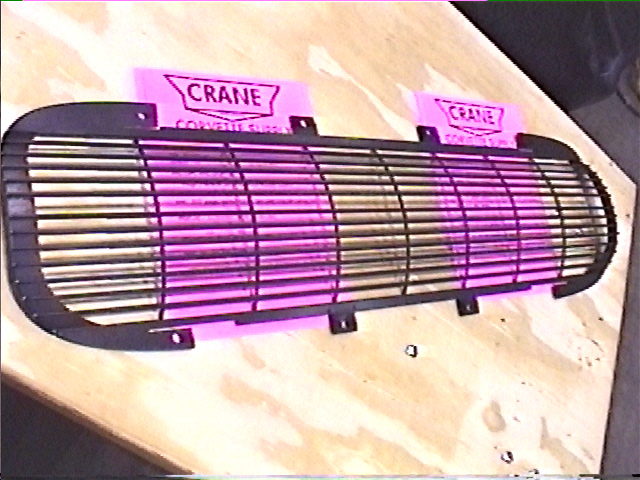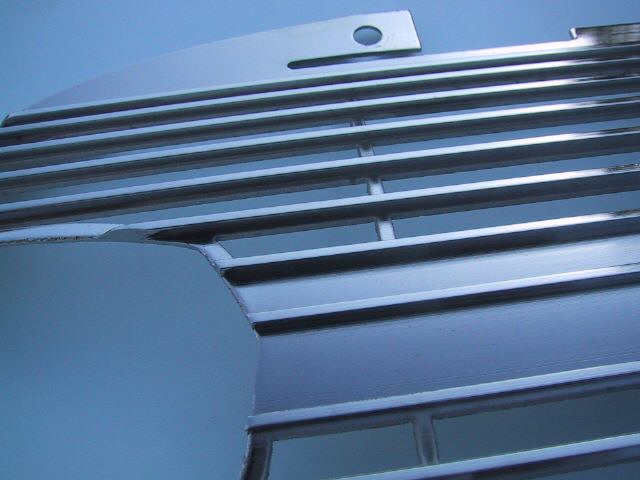 ^^^^^^^^^^^^^^^^^^^^^^^^^^^^^^^^^^^^^^^^^^^^^^^^^^^^^^^^^^^^^^^^^^^^^^^^^^^^^^^^^^^^^^^^^^^^^^^^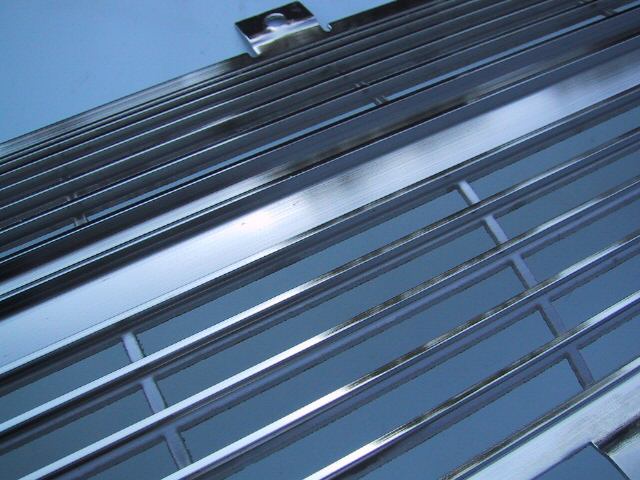 ^^^^^^^^^^^^^^^^^^^^^^^^^^^^^^^^^^^^^^^^^^^^^^^^^^^^^^^^^^^^^^^^^^^^^^^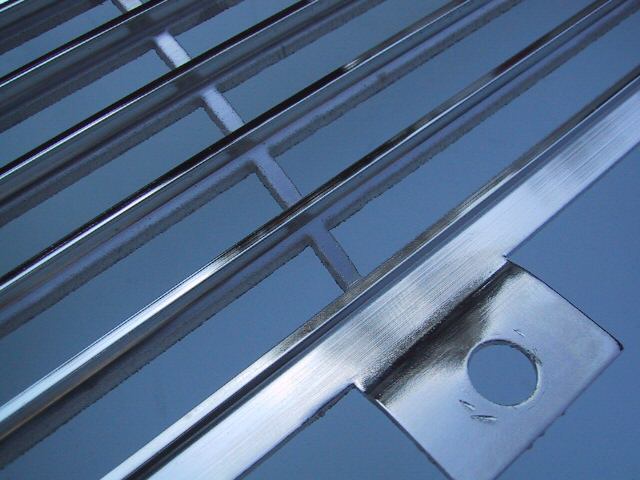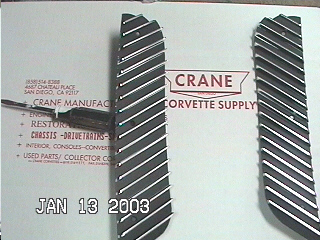 "In Stock" 1962 NEW "Cove Moldings" Exact replicas -Sale $329 pair sold in pairs only. .800-597-4132 click photo: :

crane
Year
Description
Comments
Part No
Price
Pkg
53-57
Grille
Complete & Oval Kit
421003
1301.50
Kit
53-57
Grille
Assembly Complete
421005
409.00
Each
53-57
Grille
Assembly less Mount Brackets
421007
375.40
Each
53-57
Grille Bar
421010
182.05
Each
53-57
Grille Mount Bracket
set of 5
421011
38.65
Set
53-57
Grille Oval
421004
947.35
Each
53-57
Grille Oval Mount Set
Retainer Plate 10 pcs
421008
22.10
Set
53-60
Grille Teeth Backplate
421095
1.65
Each
53-57
Grille Teeth Mounting Kit
13 Back plates 26 Studs
421015
31.65
Kit
53-57
Grille Teeth Set
w/ #421015 Mount Kit 13 pcs
421006
235.50
Set
53-60
Grille Teeth Stud
421096
1.10
Each
53-57
Grille Tooth
#6
421024
21.90
Each
53-60
Grille Tooth
#C
421020
21.90
Each
53-60
Grille Tooth
#1
421021
21.90
Each
53-60
Grille Tooth
#4
421022
21.90
Each
53-60
Grille Tooth
#5
421023
21.90
Each\
1961-62
Year
Description
Comments
Part No
Price
Pkg
61-62
Grille Bar
421201
102.90
Each
61-62
Grille Bar Nut Set
to Bumper 4 pcs
421009
1.35
Set
58-62
Grille Moulding
upper outer left
421115L
52.75
Each
58-62
Grille Moulding
upper outer right
421115R
52.75
Each
58-62
Grille Moulding
lower outer left
421116L
39.95
Each
58-62
Grille Moulding
lower outer right
421116R
39.95
Each
58-62
Grille Moulding Nut Kit
& Washer 84 pcs
421119
4.60
Kit
58-62
Grille Moulding Set
6 pcs 2 Main 4 outer w/ Mount Kit
421120
459.00
Set
58-62
Grille Shell
upper Main
421103
161.00
Each
58-62
Grille Shell
lower Main
421104
174.00
Each
62
Grille Spacer Set
10 pcs
421205
9.50
Set
C1 58-62 Bumperette, Front License Assembly Complete – Used $100.00-$175.00

C1a 58-62 Repro with Correct Bumperettes and Tubes 58-60 $279.00 61-62 $279.00

C1b 58-62 Bumperette, Front License Bolt and Spacer Kit $11.80 Bumperette, Front License Assembly Back Plate – Repro. $49.00

C1c 58-62 Bumperettes, Front License, Exact Repro (Pr) $199.00

C1d 58-62 Bumperette Front License Assembly Lower Bar $21.10

C1e 58-62 Bumperette Front License Assembly Support Tubes (Pr) Orig (58-60) $51.95

Repro. (61-62) $ call

C2 58-60, 61-62 Bumper, Front, Right (1) Used - Call Repro $439.00 Rechromed(orig) $375.00

C2a 58-60,61-62 Bumper, Front, Left (1)Used $125.00-$175.00 Repro $439.00 Rechromed(Orig) $375.00

C3 58-60 Bumper, Rear, Right or Left (1) Used $250.00-$350.00 Rechromed $425.00

ea

C3a 61-62 Bumper, Rear, Right or Left (1) Used $175.00-$295.00 RH Rechromed(Orig) $375.00 LH Rechromed(Orig) $325.00

C3b 61-62 Bumper, Rear, License, Chrome-Used, Surrounds Lic. – Used $50.00-$90.00

C3c 61-62 Rear License Plate Holder – Used - $100.00 Rechromed(Orig) $175.00 Core Exchange on Front/Rear Bumpers - Call

note: now Upgrade "Your Corvette" with Crane's Power Steering System.

for more info: click this banner below. a bolt on system - same steering box.

for: 1956-62 early corvette parts -"Power Steering System!

For Rear License Lights: See Section G

For Front Head Lights: See Section G

C4 58-60 Rear Lower Bumperettes Rh/Lh (1) Used $180 ea. Repro (1) $ not avail. disco'd.

C4a 58-60 Rear Lower Bumperette "steel " Straps" to Frame (1) – Used or Repro $41.35

C5 58-60 Bumper Bolt Kit, Rear (52 pcs.) $14.10 Bolts, As Orig $36.65

C5a 58-62 Bumper Bolt Kit, Front (66 pcs.) $12.95 Bolts, As Orig (1) $2.00

C5b 61 -62 Bumper Bolt Kit, Rear (74 pcs.) $16.45 Bolts, As Orig (10pcs) $16.45

C5c 58-62 Bumper Brackets, Front set Used $175.00 Repro $200.00

C5d 58-60 Bumper Brackets, Rear Set – Used or Repro $200.00

C5e 61-62 Bumper Brackets, Rear Original Outer Bumper Bracket (1) $54.00 Original Inner Bumper Bracket (1) $54.00 Original Center Bumper Bracket (1) $54.00 Set (6 pcs.) $300.00

C5f 58-60 Bumper Brackets, Rear, Each Bracket on Frame $35.00 Inner Bracket $41.00 Outer Short-Side Bracket $29.00

C5g 61-62 Bumper Brackets Brace Rear (4 ft. Long) – Used $162.00

C5h 58-62 Bumper Bracket Lh Main, Front (1) Used $55.00 Repro $64.90

C5i 58-62 Bumper Bracket Rh Main, Front (1) Used $55.00 Repro $64.90

C5j 58-62 Bumper Bracket Lh or Rh Inner, Front (1)LH Used $18.30 LH Repro $18.30 RH Used $18.30 RH Repro $18.30

C5k 58-62 Bumper Brkt Lh or Rh Outer, Front, Bolts to Main (1) – Repro $32.45

C5l 58-62 Bumper Brkt Lh or Rh Brace, to Frame (1) – Repro $17.25

C5m 58 Bumper Brackets, Rear "I" Beam (2) $140.00

C6 58-62 Bumper Seal, Front -2 Required $7.20

C6 58-60 Bumper Seal, Rear - (58-60 Only), 4 Required (1) $10.95

C7 58-62 Bumper Mount Block and Bushing Set, Front (1) $14.10

C7a 58-60 Bumper Mount Block and Bushing Set, Both Front and Rear $27.00

C8 62 Side Cove Trim (2) Very Good – Exc $400.00-$650.00

C9 58-62 Emblems F or R Gold Letters – Repro $57.85 Silver Letters – Repro $39.75

Bezel - NOS $35.00 Bezel - Repro $31.95 Back Plate - NOS $39.00

Back Plate - (62) Used $20.00 Back Plate (58-61) Repro $24.95

Back Plate (62) Repro $24.95 Speednuts (25pcs) $24.95 Seal $2.95

C9a 58-62 Emblems, F or R Used Gold Letters – Very Good, Compl. Call

C9b 58-60 Emblems Side Flags (1) Close $17.50 Exact $25.00 (each) or $49.95 (Pair)

C9c 58-61 Emblems Side FI Emblem (1) $20.00

C10 61-62 Emblems, Nose Letter Set NOS - $82.00 Repro.(close)- $39.95

Repro(exact)-$67.95

C10a 61 Emblems, Nose Emblem $32.90

C10b 61 Emblems, Side Bars, Red and Blue(Set) $61.80

C10c 61 Emblems, Side Corvette Plaque (2) Repro $47.95

C11 62 Emblems, Nose Emblem $21.75

C11a 62 Emblems, Side Fender Cross Flags (2) $55.10

C11b 62 Emblems, Fl Side Emblems Repro (1) $29.00 Repro (2) $57.35 Used (1) $20.00

C12 58-62 Emblems, Used $5.00-$10.00

C13 58-62 Fender Top Molding (2) Used $120.00 Repro $217.30

C13a 58 Fender Top Molding Reinforcement – Repro (2) $115.85

C14 58-60 Grille Bar- Repro $109.10

C14a 58-60 Grille Teeth Repro (1) $23.25 Set (9) $178.90

C14b 58-60 Grille Teeth Backing Plate 1 $1.75 Set (9) $15.75

C15 58-60 Teethstuds Stud (1) $1.20 Set (18) $21.60

C15a 58-60 Grille Bar and Teeth Complete Used with A Brackets $175.00 Repro $285.15

C15b 58-60 Grille Bar End Bracket (2) – Repro $15.85

C16 58-62 Grille Molding Upper (1) – Used $65.00

C16a 58-62 Grille Molding Upper (1) – New $169.00

C16b 58-62 Grille Molding Lower (1) – Used $70.00-$90.00

C16c 58-62 Grille Molding Lower (1) – New $179.00

C16d 58-62 Grille Eyebrow Molding Any (1) – Used $20.00-$25.00

C16e 58-62 Grille Eyebrow Molding Lower LH – NOS Call

C16f 58-62 Grille Eyebrow Molding Upper LH – New Call

C16g 58-62 Grille Eyebrow Molding Lower RH – NOS Call

C16h 58-62 Grille Eyebrow Molding Upper RH – New Call

C17 61-62 Grille Bar Repro $109.10 Used $60.00-$75.00

C18 62 Grille, Black Finish Call

C19 61 Grille, Silver Call

Hardtop Receivers: See Section I

C20 58, 59-62 Hubcaps with Spinner – Used (1) Fair to Very Good $75.00-150.00 (4) Good to Excellent $850.00

C20a 58, 59-62 Hubcaps with Spinner, Repro- Exc. (4) 58 $592.55 59-62 $592.55

C20b 58-62 Hubcaps Spinner New (1) with Hardware $39.95 Exact (4) with Hardware $169.95

C20c 58-62 Hubcaps Spinner Retainer and Screw Set $18.80

C21 58-62 Mirror Outside Guide Y -50 – Used $25.00-$45.00

C21a 58-62 Mirror Outside Guide Y-50 – Repro., Exact – $95.00 Close $76.90

C21b 58-62 Outside Mirror Mounting Bracket W/Rubber Gasket, Complete $10.25

C21c 58-62 Outside Mirror Bracket Screw $1.75

C22 62 Rocker Molding Retainers (8 Required) (1) $1.80

C22a 62 Rocker Molding Retainers Long Strip (1), New $9.00

C22b 62 Rocker Panel Molding New, Rh or Lh (1) $118.75 Fair-Used $50.00

C23 58-61 Side Molding Trim Installation Kit with Nuts and Washers $47.65

with Speednuts $57.65

C23a 58-61 Side Molding RH and LH Door Upper (1) $50.00

C23b 58-61 Side Molding RH and LH Door Lower (1) $50.00

C23c 58-61 Side Molding LH and RH Fender, Upper (1) Used Call NOS $135.00 Repro $107.00

C23d 58-61 Side Molding LH and RH Fender, Lower(1)Repro $50.00

C24 58-61 Side Molding "U" Piece (1) NOS $40.00 Repro $17.60

C25 58-61 Side Molding Set NOS $550.00 Repro $369.00

C25a 58-61 Side Molding Retainer (1) $1.45

C26 58-61 Side Spear Backplate Backplate – Inserts, Black (Pair) $17.95 Reinforcement Plate Set – SS $17.60

C26a 58-61 Side Spear RH Center, RH Lower or RH Upper (1) NOS $40.00

C26b 58-61 Side Spear LH Center, LH Lower, or LH Upper (1) – NOS $40.00

C26c 58-61 Side Spear Set (6) – NOS $250.00

C26d 58-61 Side Spear Repro (1)w/Reinforcement or Speed Nut $29.95

Repro Set (6) (with Back Plate, Reinforcement, Speed Nut) $174.95 Used Set (6) $75.00

C27 58 Trunk Irons (2) 4 Lb. Like Orig. Repro $682.90 Used Call

C28 58-62 Windshield Frame Screw Set (12 Pcs) $6.05

Lower Windshield Frame Nut Plate w/Screws(2) $17.60 Upper Windshield Frame Nut Plate (1) $11.80

C28a 58-62 Windshield Frame Lower Polioshed with Frame $450.00 Polished Trim Only $350.00

C28b 58-62 Windshield Frame Lower Studs (8) $18.80 NOS Nuts(8) $20.00

C28c 58-62 Windshield Frame Upper, Specify If Sunvisors – Used(w/o retainer) $300.00

Polished w/o retainer $450.00 Upper Retainer $150.00

C29 58-62 Windshield Frame Posts (1) – Used $225.00-$375.00

ALSO HAVE NEW

C29b 58-62 Windshield Frame Posts (1) – NOS or Show Chrome (with core exchange) Call

C29c 58-62 Windshield LOF Safety Plate – Original New $475.00 plus $75.00 shipping

C29d 58-62 Windshield Wiper Arm Rh and Lh (2) – Polished –Rechromed Ends $125.00 Replacement $87.75

C29e 58-62 Windshield Wiper Blade (2) Correct Polished (Show) $125.00 Replacement $68.40 Windshield Wiper Blades - Repro $143.05