The Magnificent Seven!
Exclusively from CRANE---LESS 12% OFF PACKAGE
The Most Complete and Accurate Line of 1968-1977 Dash Components Ever Available!
Add up these seven components and you have one easy decision… go direct AND make your entire 1968-1977 Dash look new again! Simply ask for a new upper dash pad, left- and right-hand lower dash pads, upper steering column cover, map pocket and vent balls. Not only will you love the precisely-matched way they fit and look, you'll really appreciate the fact that you're getting the job done right, once and for all!
1968-1977 Upper Dash Pads
Fit, feel, and look just like your original! Upper Dash Pads are the only answer when it comes to replacing your cracked and faded original. Complete with all mounting clips and brackets already attached. 1970-77 Dash Pads feature pre-cut right and left speaker holes.
68-69 Upper Dash Pad… $369
70-76 Upper Dash Pad… $399
77 Upper Dash Pad…$399
Defroster Vent Grille…$ 21
1969-1977 Map Pockets
Complete your lower dash pad restoration with our precise Map Pockets!
1969-1977 Map Pocket… $40
Map Pocket Springs - Pair… $ 6
1968-1977 Lower Dash Pads
No more hunting for costly used Dash Pads to replace your damaged originals. Corvette America's 1968-1977 Lower Dash Pads are manufactured by our own skilled craftspeople, in every original interior color! Complete with all mounting brackets and clips attached. Available in all 12 original styles.
1968-1977 Lower Dash Pads - each… $279
1969-1977 Steering Column Covers
"Turn" your LH lower dash pad restoration into a study in perfection!
1969-1977 Steering Column Covers… $49
1968-1977 A/C Vent Balls
1968-1977 AC Vent Deflector Ball… $20
1968-1977 AC Vent Deflector Ball Seal… $ 3
1956 - 1962
REPRODUCTION SEAT BELTS
REPRODUCTION SEAT BUCKLES WITH WEBBING STATE COLOR
AND YEAR OF CAR ..........$ 99.95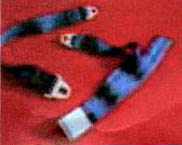 1956-1962 REPLACEMENT SEAT BUCKLES WITH HANDBONES
$119.95 SET INCLUDING WEBBING
1956-1957 ORIGINAL SEAT BUCKLES
$250.00 PAIR
1956-1962 SEAT BELT CINCH PLATE 4 PER CAR #3750259
$4.95 EACH
---
SEAT COVERS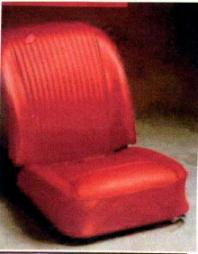 1956-1957 VENETIAN RED OR SHORELINE BEIGE
$189.00
1958 SIGNIT RED / BLUE / BLACK PEBBLE GRAIN
$189.00
1959-1960 FROST BLUE / TURQUIOSE / RED OR BLACK
$189.00
1961-1962 RED / BLACK / FAWN BEIGE / 1961 TURQUIOSE
$189.00
1956-62 SEAT FOAM .... $169.95
SEAT BOTTOM SPRINGS SPECIFY YEAR .... $69.95 PAIR
ALSO AVAILABLE .. USED ORIGINAL SEATS COMPLETE WITH THE OLD COVERS
CALL FOR CURRENT STOCK !!
To find out more about these, as well as our complete line of 1953-1999 Corvette Interior components, see
Product Name
Part Number
Price
Quantity
Pad,Dash Upper Blue/Grn,1976
20048
$399.00
Pad,Dash Upper Mdnt Blue,73-75
20049
$399.00
Pad,Dash Upper Dk Saddle,71-72
20051
$399.00
Pad,Dash Upper Neutral,74-75
20057
$399.00
Pad,Dash Upper Oxblood,73-75
20058
$399.00
Pad,Dash Upper Med Blue,71-72
20059
$399.00
Pad,Dash Upper Red,70-72
20060
$399.00
Pad,Dash Upper Silver,74-75
20061
$399.00
Seal Kit,Dash Gauge,68-77
25954
$16.95
Socket,Dash Lamp,75-95
29192
$1.00
Cover,Dash Overlay,78-82
30132
$99.95
Cover,Dash Pad Overlay,68-69
30133
$99.95
Cover,Dash Pad Overlay,70-76
30134
$99.95
Speakers,Dash Up-Grade,68-82
32289
$99.95
Duct,A/C Dash Lf,69-77
32567
$48.95
Dash,Cmpl Black,78-81
32981
$499.00
Dash,Cmpl Dk Doeskin,81-82
32982
$499.00
Dash,Cmpl Dk Blue,78-81
32987
$499.00
Dash,Cmpl Doeskin,78-80
32990
$499.00
Dash,Cmpl Oyster,79-80
32994
$499.00
Dash,Cmpl Red,78-80
32995
$499.00
Dash Pad,Lower Green Lf,1969
33528
$269.00
Dash Pad,Lower Saddle Lf,71-72
33552
$269.00
Dash Pad,Lower Neut Lf,74-75
33553
$269.00
Dash Pad,Lwr Bk Lf WO/AC,71-76
33556
$269.00
Dash Pad,Lower Red Lf,71-72
33558
$269.00
Dash Pad,Lwr Ox Lf WO/AC,73-75
33559
$269.00
Dash Pad,Lwr DB Lf WO/AC,73-75
33561
$269.00
Dash Pad,Lower Dk Blu Lf,71-72
33562
$269.00
Dash Pad,Lwr MS Lf WO/AC,73-75
33563
$269.00