RESTORATION PACKAGE: 1968- OR 1969 ASSEMBLY INSTRUCTION MANUAL + 1968-69 GUIDEBOOK WITH 2,000 PHOTOS, .....$87.95 (858) 864-2883

--- see samples below :
1969 Stingray Guidebook by Rick Bizzoco
This book is about the 1969 Stingray. It contains everything you ever wanted to know about the 1969 Stingray. book itself is $69.95 --
The reviews are completed:
CRANE'S *1968-69 STINGRAY GUIDEBOOK 230 PAGES OVER 2,OOO PHOTOGRAPHS—BOOK IS AWESOME-SETS THE STANDARD FOR all NEW RESTORATION BOOKS. --corvette --------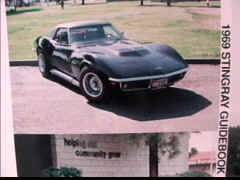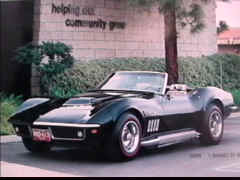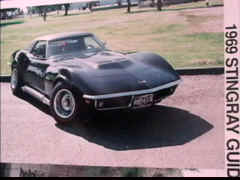 The Black L-89 11,000 mile dual disc clutch feature car of the book s/n 20,981 built April 9th 1969, "THE day before the 9 week GM SHUT DOWN strike."
"BODY DROP BELOW"-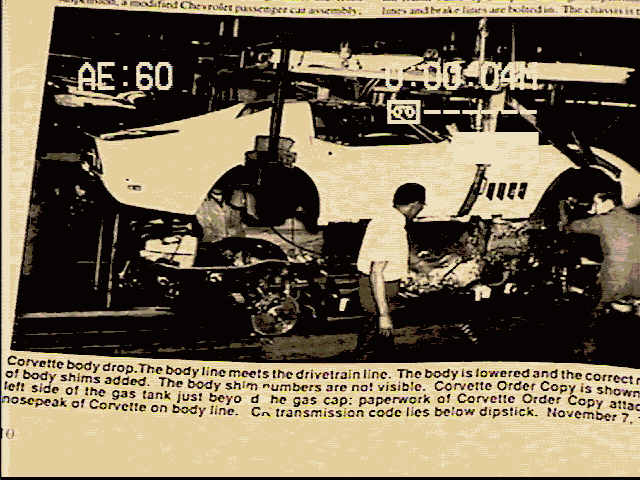 EVERY DETAILED PHOTO HAS THE VIN# NUMBER OF THE CAR SO YOU KNOW IF IT IS AN EARLY, MID OR LATE SERIES 1969. THIS BOOK COVERS DESIGN CHANGES FROM 1968-1970 EXTENSIVELY --TIRES, WHEEL CODES, T-3 HEADLIGHTS
NEVER BEFORE SEEN PHOTOS , RESEARCH AND FACTS .
A MUST FOR EVERY 1968-70 OWNER OR POTENTIAL OWNER. DISTRIBUTED BY CRANE $69.95
FOLLOWING IS SAMPLES FROM THE 1968-69 GUIDEBOOK by RICK BIZZOCO: ORDER:::::::::: 800-597-4132.
The book is truly incredible --
click for the Reviews!! Guidebook Reviews
Vette Guidebook
These are some sample pages
Some figures
Some text
References


The Index is very important and this book contains a complete and usable index. Most enthusiasts consider the 1969 Corvette to be the vette on which the legacy of the second generation Stingray was built, and they're right.

For anyone considering working on, buying, driving or restoring a 1968, 1969 or an early 1970s Stingray there is a distinct scarcity of information. For the 1969 Stingray and similar years the Guidebook is an excellent starting point. It provides specifications for almost everything on the car, including power team combinations, part numbers, paint codes, various options and production sequence numbers. A flood of photographs and illustrations lights up this book and makes both browsing photographs and in-depth reading a pleasure for both the beginner and advanced expert. The supporting text is well written, easy to understand and full of references. This volume is packed with information on so many Stingray topics that it will delight, entice and guide any enthusiast through the 220 pages. The tables and charts are well organized and contain information that is so simple to understand that you'll find yourself going straight from the index to the easy to understand charts without a blink. All the information you need is just an index away. I can't even imagine what a book like this would be without an index. In fact I can't imagine what owning a Stingray would be like without this book. As a 1969 stingray owner I use it for information myself and I find it to be an exceptional, if not stunning resource of information. I would call it the Encyclopedia Britannica of the Corvette world.

This book provides full value and use to anyone with an interest in the Stingray. Just like I do, readers will use it as a resource over and over again---for years to come. You can find almost everything in this new Guidebook and for the Stingray owner or enthusiast it's the Guidebook with everything you want and need to know. In putting this book together I paid particular attention to all the detailed information that in the past had not seen the light of day and which is so important to understanding how to put the Stingray together. The text, therefore, has had substantial thought put into the overall organization and towards how each individual topic is organized and presented. As I mentioned above this makes it possible to quickly locate information: you can go right to the photo, chart or text containing what you need to know. Even though I wrote the book, I'm continually amazed at the detail presented, the ease of understanding and the simplicity of presentation. All of these things make this work ideally suited for any Stingray owner.

Reviews on this book have appeared in Corvette Fever (July 1995), Vette Vues (June 1995), All Chevy (June 1995), Chevy High Performance (July 1995) and Corvette Trader & Chevys (May 1995).

RUNNING WEEKLY PRODUCTIONS TOTALS -YES THEY WORKED A LOT OF SATURDAYS AND NEXT PAGE SHOWS THE 8 WEEK LONG UAW-WORKERS STRIKE APRIL 10TH (THE DAY AFTER CAR #20,981 WAS PRODUCED -SEE BACK COVER) TO JUNE 8, 1969. NO CARS WERE PRODUCED DURING THIS TIME. -from : 1968-69 GUIDE BOOK BY RICK BIZZOCO

CORVETTE ORDER COPY FROM CAR # 20,981, from : 1968-69 GUIDE BOOK BY RICK BIZZOCCO.

THE ASTRONAUTS OF APOLLO 12 AND MORE………….
FACTORY BODY DROP SHOWING DETAILS AT ST. LOUIS. NOV. 7 , 1969.
CRANE HAS MANY 68-72 PARTS CARS –
THE GUIDE BOOK MAKES A GREAT ORDER GUIDE FOR USED PARTS. NOTE PAGE NUMBER IN BOOK TO ORDER USED PARTS.

WS68-76===1968-76 WIPER SWITCH ON DASH ..NEW..$49